3D Imaging
All Foothills Oral and Maxillofacial Surgery office locations are equipped with the tools needed to serve our patients' well.
In addition, our Athens office now has a cone beam X-ray machine, which allows 3-D imaging to assist in the diagnosis of pathology and impacted teeth. This new technology is also allowing better treatment planning for dental implants. We are pleased to proved the latest imaging technology in our office.
The GXCB-500 state-of-the-art technology helps Dr. Dwayne and Dr. Kevin Gross diagnose potential issues more accurately and provide treatment with unprecedented confidence. The GXCB-500 provides immediate diagnostic information on the patient to precisely plan implant treatment with exact measurements prior to surgery. Unlike a traditional spiral CT scanner, this 3D system utilizes cone beam CT technology and provides precise, crystal-clear digital images while minimizing your exposure to radiation. Our new 3D system enables us to perform a wider range of diagnoses and treatments in our office, helping to reduce multiple visits. The GXCB-500 scanner allows us to choose the field of view, or scanning area, that best suits your specific treatment needs.
Taking a 3D image is a simple process for both the patient and the clinician. You will be comfortably seated in the unit and asked to place your chin on a chin rest. After a few quick positioning adjustments, the scan begins. The gantry, the part of the unit that takes the x-ray, will rotate around your head.
The scan is painless and lasts about 9 seconds- 20 seconds later, the images are on the computer screen ready for immediate diagnosis. You will be able to appreciate the co-diagnosis process since 3D images allow you to truly visualize and better understand your treatment options.
Are 3D Digital Images Safe?
We understand that many patients are concerned about radiation exposure, we have chosen a system with the lowest radiation output. The GXCB-500 uses at least 10 times less radiation than traditional medical CT scans (Dr. J B Ludlow, Dept. of Diagnostic Sciences and General Dentistry, University of North Carolina). The system's standard scan is 31 microsieverts or slightly less than the equivalent of 4 standard film bitewing x-rays. (ADA, "Digital X-rays", 2006)
Drs. Kevin and Dwayne Gross can use this innovative technology to quickly and easily share 3D images of the area of concern with your referring doctor – allowing the doctors to collaborate on your care, improving your experience, and delivering a positive treatment outcome. We have invested in this technology to better serve our patients, and provide the peace of mind that our diagnosis and treatment plans are based on the most comprehensive information found in dental x-rays today.
Related X-ray Articles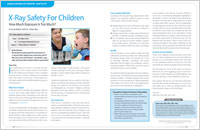 X-Ray Safety For Children
Nearly every diagnostic testing procedure carries some risk, so it's always important for you and your healthcare provider to weigh the benefits against the risks. This is particularly true when it comes to children, who are more sensitive to x-rays than adults… Read Article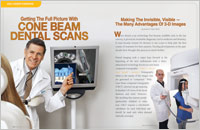 Getting The Full Picture With Cone Beam Dental Scans
Dental imaging took a major leap forward at the beginning of the new millennium with a three-dimensional technology known as cone beam computed tomography (CBCT). The name comes from the cone-shaped beam of x-rays the CBCT machine projects as it rotates around a person's head, taking multiple images that are compiled into a 3-D picture by a computer. Find out what CBCT can reveal and how it helps a doctor to make a highly informed diagnosis and choice of treatment… Read Article