Dental Implants
Dental Implants Presentation
To provide you with a better understanding of dental implants, we have provided the following multimedia presentation. Many common questions pertaining to dental implants are discussed.
What Are Dental Implants?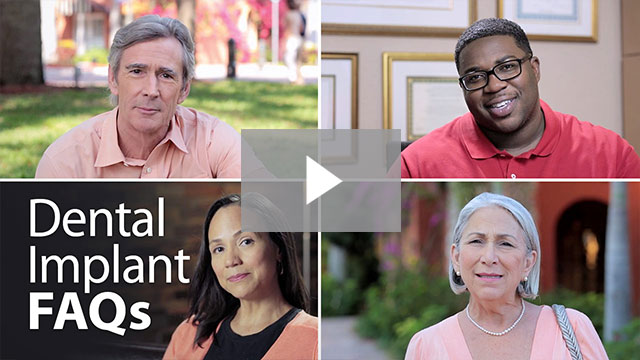 Dental implants are replacements for lost teeth and can be used to support crowns, bridges or dentures. If you are missing one, several or all of your natural teeth, dental implants are root replacements for those missing teeth. Dental implants are the most comfortable and permanent solution. They form a strong foundation for teeth and keep the jaw healthy and strong. Dental implants can last a lifetime. Implant-supported replacement teeth can be attractive, stable, and comfortable for almost any patient. They are designed to provide a foundation for replacement teeth that look, feel, and function like natural teeth. Dental implants help patients regain the ability to eat, and helps preserve the facial structure, preventing bone loss that occurs when teeth are missing.
Surgical Advances
Using the most recent advances in dental implant technology, Dr. Kevin Gross and Dr. Dwayne Gross are able to place single stage implants. These implants do not require a second procedure to uncover them, but do require a minimum of six weeks of healing time before artificial teeth are placed. There are even situations where the implant can be placed at the same time as the tooth extraction – further minimizing your number of surgical procedures.
Dental implant placement is a team effort between an oral and maxillofacial surgeon and a restorative dentist. Drs. Kevin or Dwayne Gross will perform the actual implant surgery, the initial tooth extractions, and bone grafting if necessary. The restorative dentist (your dentist) fits and makes the permanent prosthesis. Your dentist will also make any temporary prosthesis needed during the implant process. A successful implant requires that all parties involved (Patient, General Dentist, Oral Surgeon) follow a careful plan of treatment. All members of the implant team stay in close contact with each other to make sure everyone clearly understands what needs to be done to meet patient's expectations.
Why Dental Implants?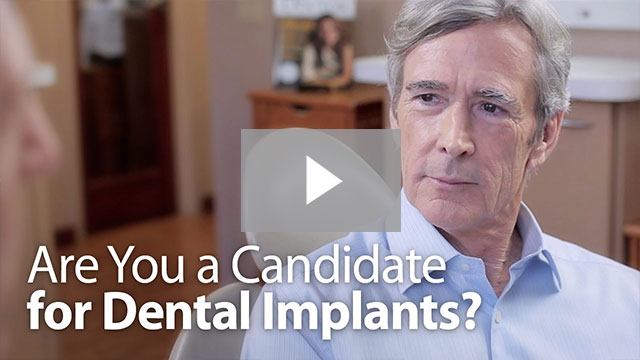 Who would want their appearance and health to deteriorate? That's the natural consequence of missing teeth – the jaw literally melts away. Generally, people will lose 25% of their supporting jawbone structure within the first year after tooth loss. Your teeth affect your whole body. When they're healthy, you're healthier too. A missing tooth can affect your bite, speech and eating choices. As you rely more on your remaining teeth, you increase the chance they will wear out prematurely, or be damaged or lost. You may also experience headaches and/or jaw pain. Dental implants can be seen as a long-term investment not only in terms of money, but also in terms of quality of life. A dental implant is the closest thing to a natural tooth. In addition to allowing the patient to eat the same healthy foods he or she has always enjoyed, it also eliminates the day-to-day hassles and possible embarrassment that are frequently caused by dentures. They safeguard and preserve your bone structure, oral health and appearance. Invest in yourself.
Why Select Dental Implants Over More Traditional Types Of Restorations?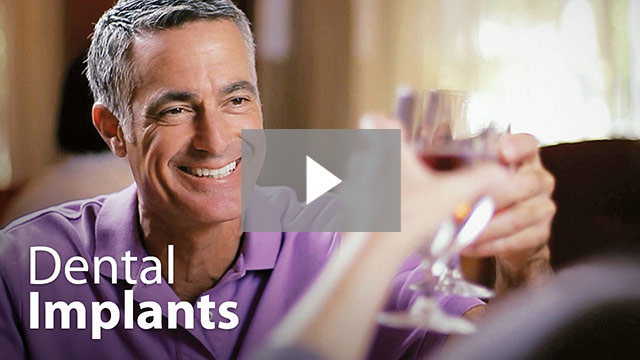 There are several reasons: A dental bridge can sacrifice the structure of surrounding good teeth to bridge the space of the missing tooth/teeth. In addition, removing a denture or a "partial" at night may be inconvenient, not to mention dentures that slip can be uncomfortable and rather embarrassing.
Related Dental Implant Articles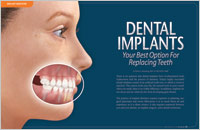 Dental Implants – Your Best Option For Replacing Teeth
Dental implants have many advantages over older methods of tooth replacement like bridges and dentures — from the way they function and feel to the way they look and last. Vigorous research has documented and confirmed that in the right situations, dental implant success rates are around 95%. It is no exaggeration to say that they have revolutionized dentistry. They may even change your life… Read Article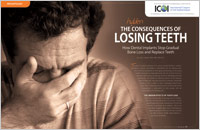 The Hidden Consequences of Losing Teeth
For those missing even one tooth, an unsightly gap is actually the least significant problem. What's of far greater concern is the bone loss that inevitably follows tooth loss. Dental implants fused to the jawbone can preserve bone, improve function and enhance psychological well-being. Learn how implants serve both as anchors to support replacement teeth, and preserve bone as one of the better preventive maintenance procedures in dentistry… Read Article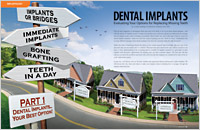 Dental Implants — Evaluating Your Options for Replacing Missing Teeth
As we guide you through the marketing hype you'll see that well planned implants most often require a team approach in assessing whether they're right for you. Not only are they a better treatment choice, they will last longer, possibly a lifetime, making them the right choice and the most cost effective option long term… Read Article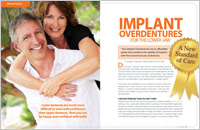 Implant Overdentures for the Lower Jaw
Implant overdentures represent a major change for the dental profession and the public. The lower jaw two-implant overdenture may be considered a more appropriate starting point over regular dentures… Read Article